Special Announcements
We will be closed for a private event on Friday, March 23 from 6:00 pm – 7:00 pm
Want a fun way to get in shape?  Give our Fit Jump classes a try!  Give us a call or sign up online!
We now have mandatory Bounce socks.  They are included in your party package and are $3.00/pair for open jump!  Don't forget to bring them back every time you jump! 
OPEN JUMP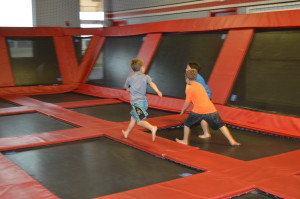 Mon Noon – 8 pm ($10/hr)
Tues/Wed/Thurs Pre-school Open Jump 9:30 am – noon ($10 per hour/$8.50 for siblings)
Tues/Wed/Thurs 3 pm – 8 pm ($12/hr)
Fri 11 am – 10 pm ($14/hr)
Sat Toddler Time 10-10:50am ($12) Open Jump 11 am – 11 pm ($14/hr)
Sun Noon – 8 pm ($14/hr)
Prices do not include the mandatory Bounce socks ($3.00)
FIT JUMP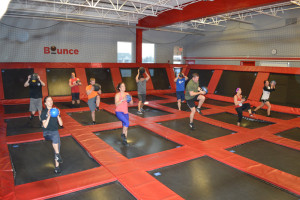 Tired of running on the treadmill or doing the same old boring workout routine? Join the Fit Jump class and burn up to a thousand calories while participating in bootcamp style training on the trampolines. Did you know that rebounding on a trampoline affects every organ and is directly related to the efficiency of the lymphatic and immune system? Not only will you burn a ton of calories, you are releasing toxins from the body.
Monday Special!

Every Monday from Noon to 8 pm, $10 per jumper per hour.

Great Deals!

Fit Jump Pass $90 for 10 sessions
Family Class Pass $110 for 10 sessions
Open Jump Pass $135 for 12 sessions
Open Jump Pass $250 for 24 sessions

Jump Cards for Bounce Bucks Now Available!

Use towards classes, open jump, parties, snack bar, and merchandise! 

Please note, you may use only 1 per visit and may NOT use your card toward any of our packages.

Jump Cards must be purchased ahead of time as they have a 24-hour activation period.

$50 purchase = $55 in bounce bucks
$100 purchase = $115 in bounce bucks
$200 purchase = $225 in bounce bucks

The Bounce Club offers Saturday Night Teen!

9pm – 11pm

$20 for 2 hours of jump time
$25 2 hour jump – Includes 2 slices of Flyers Pizza and Fountain Drink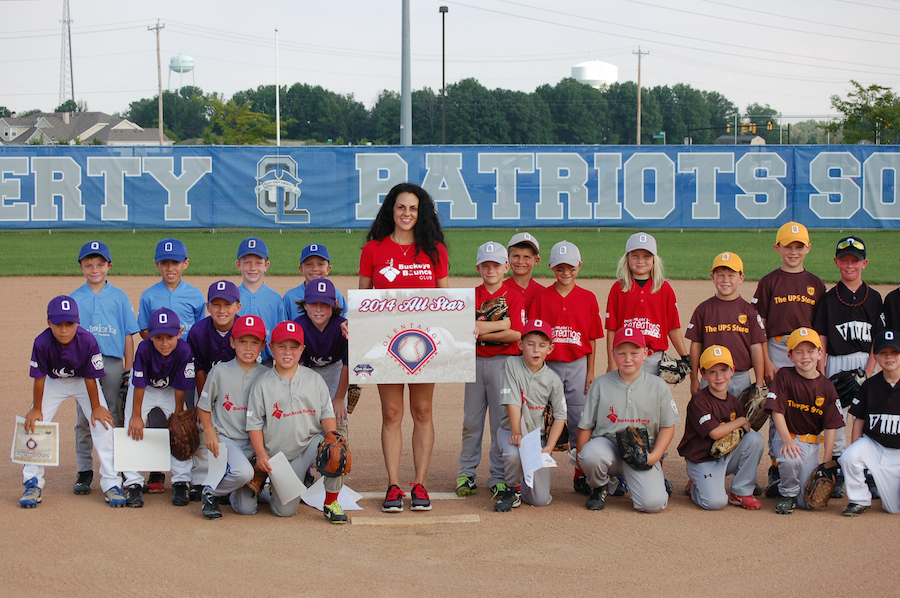 Important Waiver Information
Important Waiver Information
ATTENTION!
Every jumper that is under the age of 18 must have a signed waiver by their own parent prior to jumping. Parents may NOT sign a waiver for anyone else's child. A completed waiver is required before jumping. Please download the waiver below and fill it out before arrival to speed up the check in process.
The Bounce Club Trampoline Park in Powell, Northwest Columbus, OH
The Bounce Club is one-of-a-kind trampoline park in Columbus, OH. Located at 3967 Presidential Parkway at Powell in Northwest Columbus, The Bounce Club can be your destination of fun and fitness or your kids'.
Jump Your Way To Fitness
There are so many instances where people are simply worn out with regular and mundane workouts that although are helpful in staying fit but are not half the fun that the trampoline park can be. Jumping on trampolines can be an effective way to stay fit and with a bit of an expert advice from a professional trainer can go a long way in keeping you healthy while you have an amazing time.
Trisha Rich, the founder and operator of The Bounce Club in Ohio had been a professional certified trainer and a competitive gymnast herself prior to dedicating herself full time to the trampoline park.
Plethora Of Services & Events To Enjoy
If you thought a trampoline park in Columbus was all about just having fun and jumping then you really need to look beyond conventions. The Bounce Club in Ohio goes much beyond the trampoline to make your experience a highly rewarding and rejuvenating one.
Birthday parties for kids and teens at The Bounce Club are a favorite among patrons. There are several birthday packages to choose from that include Pizzas and sodas and the trampoline can be reserved exclusively if there are more than 25 jumpers for a party.
Corporate parties and team building exercises can not only happen at retreats and at clubs but also at trampoline parks in Columbus, Ohio. The Bounce Club can be a great place to come in with colleagues and have some fun while tending to a bit of workout and gelling with the peers.
A game of dodge ball or some expert tips on hand and eye coordination to become a semi pro jumper and lots of other phenomenal experiences await you at this trampoline park in Ohio.
Apart from customizable events, there are regular Teen Nights, Pre K sessions and personalized classes for teenagers, kids under the age of six, moms who intend to come in with kids and have some fun and even for parents who wish their babies could be taken care of in a fun environment while they have some business to catch up on.
There are simply too many activities at The Bounce Club ranging from DJ Nights to gymnastics that residents of Powell and Columbus, OH can enjoy.